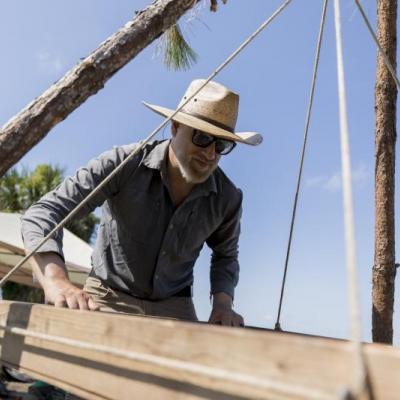 Professor
Director, Laboratory of Archaeology
I am an archaeologist who specializes in the application of archaeological science to the study of socio-political complexity and the historical ecology of wetland and coastal environments in the American Southeast. In this work I strive more and more to connect to issues related to community archaeology and the descendent communities whose ancestral lands that I study. I engage globally with scholars who share research interests in archaeological science, as well as island and coastal archaeology. Broadly, my research utilizes historical and political ecology frameworks and focuses on the Georgia coast and the central and southwestern Gulf Coast of Florida. This research seeks to understand the long-term dynamics among Native American peoples and their environments in the context of ritual, monumentality, and political complexity, and how these trajectories experienced ruptures and continuities at the moment of European contact and colonialism. Such research provides important insight into changing patterns of human mobility and resource exploitation, as they relate to sea level change and differences in the biophysical environment, as well as how groups who have long-term relationships with specific ecosystems experience dramatic new social landscapes. I employ a number of methods in my research including the analysis of monumental architecture, shell midden archaeology, stable oxygen isotopes, remote sensing, and Geographic Information Systems. As Director of the Laboratory of Archaeology, I am engaged with NAGPRA (Native American Graves and Repatriation Act, https://www.nps.gov/subjects/nagpra/index.htm) to make sure that ancestors cared for by UGA are treated respectfully and repatriated to the their descendent communities.   
Education:
PhD, Anthropology, University of Kentucky, 2006
Research

Research Interests:

Historic Archaeology (Colonial Period)

Native American Archaeology

Bayesian Modeling

Radiocarbon

Oxygen Isotopes

Monumentality

Early Villages

Shell Midden Archaeology

American Southeast

Islands, Coasts, and Wetlands

Geoarchaeology and Geophysics

Landscape Archaeology

Social Theory
Selected Publications

Selected Publications:

Thompson, Victor D., William H. Marquardt, Karen J. Walker, Amanda Roberts Thompson, Lee A. Newsom. 2018. Collective Action, State Building, and the Rise of the Calusa, Southwest Florida. Journal of Anthropological Archaeology 51:28-44.

Thompson, Victor D. and Anthony Krus. 2018. Contemplating the History and Future of Radiocarbon Dating in the American Southeast. Southeastern Archaeology 37:1-11. DOI: 10.1080/0734578X.2017.1364600

Thompson, Victor D., Thomas J. Pluckhahn, Matt Colvin, Justin Cramb, Katharine Napora, J. Jacob Lulewicz, and Brandon Ritchison. 2017       Plummets, Public Ritual, and Interaction Networks during the Woodland Period in Florida. Journal of Anthropological Archaeology 48:193-206.
Grants

Grants:

2019       $81,981. UGA, Laboratory of Archaeology, NAGPRA Consultation Grant. National Park Service. Victor Thompson (P.I.), co-P.I. Amanda Roberts Thompson.

2018       $289,652. Collaborative Research: Occupying New Landscapes: Late Archaic Shell Rings and the Coastline of the Georgia Bight. National Science Foundation, $188,953 awarded to Thompson (co-P.I.), Matt Sanger (P.I.), Sharyn Jones (co-P.I.).

2018       $300,925. Collaborative Research: Integrated Archaeological and Paleoecological Studies of Sea Tenure and Socioecology in Late Holocene Tampa Bay, Florida. National Science Foundation, $192,192 awarded to Thompson (co-P.I.), Thomas Pluckhahn (P.I).