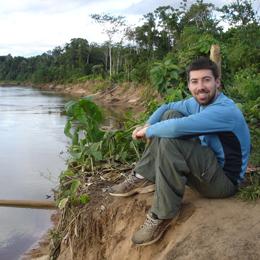 Several faculty members and an alumnus were featured in UGA's fall issue of Georgia Magazine.
Asher Rosinger, anthropology Ph.D.'15, MPH '12 has put his Amazonian research on hold as he serves a two-year stint with the Center for Disease Control as one of only two medical anthropologists known as "disease detectives." His most recent assignment was studying Zika in Puerto Rico. Rosinger will join Pennsylvania State University as faculty in 2018, where he'll be able to resume his research on the effects of hydration on health and hydration strategies in different cultures. See page 50.
Page 12 of the magazine covers two recent events the department hailed with pride covered in our site's news section below. Film producers sought out Assistant Professor and primatologist Roberta Salmi, who provided recorded samples of primate vocalization and behavior to both of the last two films in the Planet of the Apes trilogy, including this summer's War for the Planet of the Apes.
Also sharing page 12 and our own website coverage, the American Museum of Natural History has entrusted the Center for Archaeological Sciences with an incredible collection of artefacts from coastal Georgia; items span both Native American occupation and later Spanish colonization. St Catherines Island has been a focus of department research for decades; currently faculty members Laurie Reitsema and Victor Thompson lead teams exploring the island's heritage. Laboratory of Archaeology director Mark Williams says the transfer will "[A]llow current and future researchers to continue answering questions concerning the role that islands and coastal regions played in the development of human societies over time."