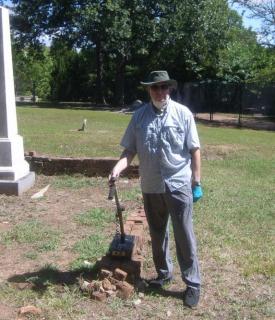 The National Science Foundation (NSF) awarded Dr. Ervan Garrison a Standard Grant for his research project titled, "A Method for Assessing Scour Nuclei in US Inner-to-Mid Continental Shelf." 
Dr. Ervan Garrison will undertake a study of submerged prehistoric archaeological sites drowned after the end of the Last Glacial Maximum (LGM). The sites are expected to be found on the Atlantic Ocean's Continental Shelf of the Georgia Bight. Such sites are difficult to discover and study but are extremely relevant to understanding human entry adaptations in the Americas. Dr. Garrison's research seeks to develop a new method of underwater survey designed to overcome many of the costs and difficulties currently associated with underwater archaeological exploration. His study will exploit existing erosional features are created around wrecks or artificial reefs. These exposures are compelling targets for archaeological testing because excavation has already been done by natural forces such as tidal currents. A successful study of scour nuclei offers us the ability to advance our understanding of the now drowned paleolandscape of the southeastern coastal plain along the Atlantic. This study will seek to improve current methodologies for survey and recovery of submerged archaeological sites. By so-doing, it will broaden the typological and chronological framework for prehistoric sites on the southeastern U.S. continental shelf and contribute more broadly to research on drowned paleolandscapes nationally and globally.
Dr. Garrison and his team will examine how natural oceanic forces may reduce effort and costs currently associated with the location and characterization of submerged archaeological sites. Such costs are not trivial and the technology required, while commercially available, does not normally provide an acceptable success rate with regard to prehistoric sites. The researcher will lead a small team of archaeologically and geologically trained students and colleagues. The datasets generated by this team will provide new insights into the feasibility of the methods as well as into the larger picture of the nature and survivability of submerged prehistory in the U.S. offshore and globally. The collaborative focus of the team will provide new and exciting educational opportunities for students.
Congratulations to Dr. Garrison on his NSF grant!