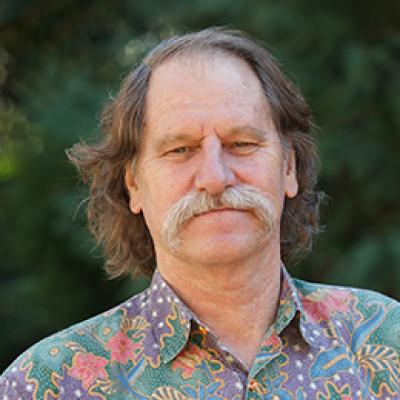 Distinguished Research Professor
Founding Director, Center for Integrative Conservation Research
Expertise and Interests
Integrative conservation research, Political Ecology, Environmental Anthropology, politics of translation, transnational environmental movements and institutions, insular Southeast Asia (Malaysia, Indonesia).
Education

Education:

PhD, Anthropology, University of Michigan, 1992
Research

Research Interests:

Penan Land Claims: From Data to Evidence

I conducted dissertation research with Penan hunter-gatherers in the Malaysian state of Sarawak, on the island of Borneo from 1984-1987. I continued working with Penan through the 1990s and 2000s in multi-sited research on the global environmental/indigenous rights campaign that focused on Sarawak and the dispossession caused by logging. In recent years the linked processes of forest degradation and dispossession have accelerated, particularly with the rapid expansion of oil palm plantations in areas occupied by Penan and other indigenous communities. The Sarawak state government appears dedicated to extinguishing indigenous land rights in the name of development (logging, plantations, hydroelectric dams).

In the year 2000, the land belonging to the Penan community of Long Jaik, where I conducted my dissertation research, was given to a plantation company based on a false claim that the area was uninhabited; clear-cutting and planting of oil palm and acacia commenced immediately and continues up to the present. In 2009 the people of Long Jaik brought a court case against the plantation company (Shin Yang), the Forest Department, and the Sarawak state government, and in 2012 I was asked to provide expert witness testimony in court to demonstrate continuous occupation by this community of their ancestral lands. Since that time I have worked with the community, their lawyers, and my UGA colleague Nate Nibbelink (Warnell School of Forestry and Natural Resources and Director of the Center for Integrative Conservation Research) to produce a series of spatio-temporal analyses of genealogies, migration patterns, hunting routes, sago processing, and birth and burial locations for presentation in court. I initially testified in court in October 2012 and returned for further testimony and cross-examination on several subsequent occasions.

The case has yet to be resolved and will likely continue for several more years. Because this case challenges conventional ways of establishing rights to land that rely of photogrammetric evidence of land clearance, this case is of great significance for indigenous communities in Sarawak.  My engagement in this court case has compelled me to initiate a trajectory of writing focused on the politics of knowledge that emerge when ethnographic data embedded in academic publications that are subject to peer review become evidence subject to cross-examination in court.

________________________________________

The Political Ecology of Real Estate Development in Bali

I have recently initiated a new trajectory of research and collaboration in Bali, Indonesia. The island of Bali is the source of many classic ethnographic studies and the birthplace of visual anthropology. It is famed for its visual exuberance and for its elaboration of the arts and ritual. There is also a long legacy of western portrayals of Bali as an exotic Paradise, and this continues to be a foundation of touristic portrayals of the island. Many Balinese have come to depend on tourism and it is today the single greatest contributor to the local economy. At the same time, Balinese are expressing profound anxiety about their future on an island increasingly dominated by foreign and domestic investment in land. Besides a rising trend in dispossession, tourism and real estate development has produced a crisis in plastic waste, pollution, and water shortages caused by the fragmentation of centuries-old irrigation systems and the diversion of water to resorts and real estate developments.

Balinese increasingly express their concerns about hyper-development through conventional conceptions of spiritual defilement and the agency of gods and other unseen (niskala) agents angered by the breakdown of Balinese stewardship of nature. In recent years this has led to a diffuse but growing "Bali Not For Sale" movement, and a broader movement focused on the planned "reclamation" of Teluk Benoa (Benoa Bay) for mass tourism development. These movements are being led by a series of alliances between traditional religious leaders, environmental organizations, artists and rock musicians, and they are manifested in protest events—concerts and demonstrations—organized through social media.

I am interested in asking how we can draw on the legacy of studying dispossession in Political Ecology to understand the forms of dispossession that are occurring in Bali as a result of tourism and real estate development. My goal is to explore how to conceptualize such a political ecology of real estate, in a context where real estate markets and metricized investment opportunities exist in dynamic relation to the niskala world of the unseen, and where representations of "Bali as paradise" that one finds in travel magazines, real estate brochures and online publications meets the expressive world of representations of artists, musicians, and priests who talk back to those who would turn the island into a commodified real estate market.

One element of this research trajectory is a collaboration I am developing with Balinese artist. Made Bayak (https://madebayak.wordpress.com/). Working in various media, from painting to performance art, Bayak's work explores the links between the 1965 genocide, neo-exoticism, hyper-development, waste and water issues. Bayak and I are currently exploring ways to co-produce artistic and ethnographic representations of themes relevant to this complex assemblage of themes.

_________________________________________

Sustainable Surf Tourism in Costa Rica

In recent decades the number of surfers worldwide has increased steadily and surf travel has become a major form of tourism, particularly in the Global South. Costa Rica, which has scores of world-class surf breaks, exemplifies this trend. The result, in coastal communities throughout Costa Rica, has been exponential growth as surfers from North America, South America, Europe and elsewhere converge in search of waves. In the process, they are creating a coastal real estate boom that promotes dispossession, diverts water from farms, and produces unprecedented levels of waste and pollution. Surf scholars have described as neocolonial the tendency for wealth to accumulate among foreign business-owners in surf destinations to the detriment of local communities.

In the face of this boom, there has been a countermovement that aims to promote "sustainable" surf tourism. Through certification schemes and other measures, hotels and other tourist facilities seek to decrease their environmental impact and to present an image of sustainable environmental stewardship. By embracing sustainability as a goal, these projects envision surf tourism as a meaningful driver for the positive socioeconomic development of local communities while safeguarding against negative environmental impacts.

In an ongoing research collaboration with Tara Ruttenberg (www.tarantulasurf.com), we have examined these sustainability claims and challenged them as perpetuating conventional neoliberalism through what we term the "production of innocence." While prescient in recognizing the neocolonial nature of surf tourism, and well-intentioned in designing frameworks for a more sustainable brand of surf tourism, in a recent article (Ruttenberg & Brosius 2017) we argue that many of the solutions proposed by proponents of sustainable surf tourism are in need of fundamental re-thinking. By aligning itself with income-oriented status-quo sustainability, the emerging field of sustainable surf tourism runs the risk of becoming sustainability green-washing while reproducing conventional forms of exploitation. We offer a critical examination of the fields' current approach to sustainability as a basis for re-considering the "surf-tourism-for-sustainable-development" model. Our aim is to encourage experiments in endogenous forms of assets-based surf tourism governance aligned with diverse community economies and alternatives to development as a decolonizing approach to sustainable surf tourism.

_____________________________________

Addressing the Challenges of Integrative Conservation Research

For the last 15 years, much of my research and writing has focused on anthropological engagements with conservation. Initially, most of my work was concerned with what has been called the political ecology of conservation. At the same time, as anthropologists have produced innumerable critical accounts of conservation, a persistent theme in my work has been the challenges of working across disciplines and fields of practice. I have consistently argued for the value of asking the sorts of questions that critical political ecologists ask, while also arguing for the need to ask those questions in a different way. I have long been concerned by conservation practitioners' perception of the irrelevance of critical analyses articulated by academics and have sought ways to address it. It was this set of concerns that led me toward a long and continuing trajectory of interdisciplinary engagement. I was one of the founders of the Social Science Working Group of the Society for Conservation Biology and have published extensively in journals focused on conservation and sustainability. From 2005-2010 I was engaged in an interdisciplinary research effort initiated by the MacArthur Foundation Conservation and Sustainable Development Program called Advancing Conservation in a Social Context (ACSC). ACSC brought together researchers and conservation practitioners from five continents in order "to improve the ability of key actors to identify, analyze, and negotiate future conservation and development trade-offs."

In 2007 I spearheaded the establishment of the Center for Integrative Conservation Research (CICR) at UGA with funding from ACSC and institutional support from the University of Georgia. CICR was established to respond, through research and training, to one of the key challenges facing conservation today: identifying conservation practices and policies that simultaneously preserve biodiversity and serve human needs. Building on the intellectual foundation of ACSC, CICR promotes the synthesis of social and biological science research methods and conceptual approaches in conservation through an integrative approach to conservation research. Since 2007, CICR has received over $1,400,000 in external funding from the MacArthur Foundation, National Science Foundation, and other sources in support of its research activities. Given the broad range of research interests of CICR faculty affiliates, we employ an expansive definition of conservation that encompasses a broad range of contemporary sustainability challenges.

The integrative approach that is at the heart of CICR's vision for research and teaching represents something more than interdisciplinarity. It is premised on recognition that conservation and sustainability issues are experienced and understood from a variety of legitimate perspectives, and that each discipline or epistemology highlights certain dimensions of a research problem while obscuring others. Thus, when problems are sufficiently complex, it may become impossible to unify the views from multiple perspectives into an integrated whole, requiring acknowledgment of dissonance and incommensurability. It is in those struggles for translation across disciplines and fields of practice that the greatest potential for novel understandings of a problem lie. Finally, an integrative approach promotes a process, not an endpoint; it is integrative, not integrated. That is, it does not seek consilience, a singular paradigm that claims to provide exclusive insights into complex conservation challenges. Instead, the integrative perspective accepts and embraces the value that accrues from considering a diversity of ways of perceiving and analyzing complex conservation issues and seeks ways to work across that diversity.

In 2010 CICR led the process to create the Integrative Conservation (ICON) Ph.D. program at UGA, and the program was launched in 2012. The ICON program is a collaboration between the Departments of Anthropology and Geography in the Franklin College of Arts and Sciences, the Odum School of Ecology, and the Warnell School of Forestry and Natural Resources. The program is designed to ensure that students receive rigorous theoretical and methodological training in a traditional discipline while also learning to collaborate across disciplines and fields of practice to seek integrative solutions to complex conservation/sustainability challenges. The integrative focus of the ICON program reflects a recognition that, while interdisciplinary research and teaching/mentoring is a worthwhile goal, actually doing so can be challenging, and it is important to acknowledge those challenges. Since its inception the ICON program has attracted a diverse international array of Ph.D. students and has established a strong record of research, external funding, publication and post-degree employment.

_____________________________

Social Acceptability of Biofuels in the U.S. Southeast

One of my major research goals is to promote interdisciplinary research collaborations, sponsored research and publications that employ an integrative approach to addressing complex conservation/sustainability challenges. This approach has already been applied in several smaller studies in Peru, Tanzania and Vietnam in which I have been a co-author of published outputs. The approach also conceptually and methodologically structured our $345,000 grant from the USDA Agriculture and Food Research Initiative (AFRI) Sustainable Bioenergy Program for a research project focused on the social acceptability of bioenergy in the southeastern United States. This collaboration with John Schelhas (USDA Forest Service) and Sarah Hitchner (CICR) employed ethnographic field research to elucidate public perceptions of bioenergy development, as well as the socio-economic dynamics of the communities in the Southeast in which bioenergy facilities are located or planned.

____________________________________

Collaborative Event Ethnography

Since 2007 I have been engaged in an effort with colleagues from Duke University, University of Toronto and other institutions to develop an ethnographic approach to the study of global environmental governance through what we call Collaborative Event Ethnography. This effort is premised on recognition that there exists a scalar and disciplinary imbalance in contemporary research on global environmental governance. While anthropologists and geographers have focused on local-scale conservation interventions, and while 'political ecologists' have addressed emerging forms of transnational environmental governance, analyses of how conservation is structured through international institutions has been the task of political scientists and sociologists. In developing the idea of Collaborative Event Ethnography, our goal has been to bring an ethnographic perspective to the study of emerging regimes of global environmental governance specifically through the study of meetings such at the World Conservation Congress (WCC) and the Convention on Biological Diversity (CBD) Conference of the Parties (CoP). Our efforts to develop this approach derived from our experience observing these events as individual researchers and feeling overwhelmed at the scope and scale of these meetings. At a 2007 meeting on "Conservation and the Politics of Knowledge," which I organized with ACSC support, we began planning for a Collaborative Event Ethnography of the 4th WCC in Barcelona in October 2008. We recruited a team of 17 researchers at a range of career stages (undergraduate to Professor) and began planning ahead to incorporate mechanisms for collaborative data collection, data sharing and synthesis. Over a two-week period in Barcelona, we distributed ourselves across the WCC and convened daily meetings to share observations. Though we distilled several key themes in Barcelona (orchestration, performativity, translation, as well as the linkage of actors, organizations, processes and decisions to past and future meetings), we failed to create a structure for collaborative writing following the congress. It was with this in mind that we began planning for a Collaborative Event Ethnography of the CBD CoP 10 in Nagoya, which we carried out in October 2010 with funding from NSF. For this research, we placed much more emphasis on linking the research itself to collaborative writing by the creation of a thematic matrix to organize our efforts. A number of publications have emerged from this collaboration by several of the thematic writing groups, and I am currently drawing on this research in a co-authored theoretical paper showing how the study of meetings challenges conventional anthropological assumptions about the nature of the "field" as a site of ethnographic research.

____________________________________

 

Study Abroad Programs

Bali & Beyond • http://bit.ly/2ifDciF

Surfing and Sustainability: Political Ecology in Costa Rica • http://bit.ly/2kUT0Iw
 

 
Selected Publications

Selected Publications:

2017.  Tara Ruttenberg and J. Peter Brosius.  "Decolonizing Sustainable Surf Tourism."  In The Critical Surf Studies Reader, edited by

Dexter Zavalza Hough-Snee

& Alexander Eastman.  Duke University Press.
2017. Hitchner, Sarah, John Schelhas, and J. Peter Brosius. "'Even Our Dairy Queen Shut Down': Risk and Resilience in Bioenergy Development in Forest-dependent Communities in the U.S. South." Economic Anthropology 4(2): 186-199.
2016.  Hitchner, Sarah, John Schelhas, and J. Peter Brosius. "Snake Oil, Silver Buckshot, and People Who Hate Us: Metaphors and Conventional Discourses of Wood-Based Bioenergy in the Rural Southeastern U.S." Human Organization 75(3): 204-217.
2015.  Witter, Rebecca, Kimberly R. Marion Suiseeya, Rebecca Gruby, Sarah Hitchner, Edward M. Maclin, Maggie Bourque, and J. Peter Brosius.  "Moments of influence in global environmental governance." Environmental Politics 24(6): 894-912.

http://dx.doi.org/10.1080/09644016.2015.1060036

.

2015.  "Eliciting Inter-Temporal Value Trade-Offs: A Deliberative Multi-Criteria Analysis of Vietnam's Bai Tu Long National Park Management Scenarios."  IAFOR Journal of Sustainability, Energy and the Environment (IJSEE) 2(1):41-62.  Asim Zia, Paul Hirsch, Hoang Van Thang, Tran Chi Trung, Sheila O'Connor, Thomas McShane, J. Peter Brosius, Bryan Norton.

http://iafor.org/archives/journals/sustain-journal/v2n1/IJSEEv2n1a3.pdf

2014.  M. Welch-Devine, R.D. Hardy, J.P. Brosius, N. Heynen.  "A Pedagogical Model for Integrative Training in Conservation and Sustainability." Ecology and Society 19(2):10.

http://dx.doi.org/10.5751/ES-06197-190210

.

2014. 

Richard Vercoe, M. Welch-Devine, R. Hardy, J. Demoss, S. Bonney, K. Allen, J. Peter Brosius, D. Charles, B. Crawford, S. Heisel, N. Heynen, R. de Jesús-Crespo, N. Nibbelink, L. Parker, C. Pringle, A. Shaw, L. Van Sant.  "

Acknowledging Trade-offs and Understanding Complexity:  Exurbanization Issues in Macon County, North Carolina."  Ecology and Society (19)1:23. 

http://www.ecologyandsociety.org/vol19/iss1/art23/

.

2014.  Lisa Campbell, Catherine Corson, Noella J. Gray, Kenneth Iain MacDonald, J. Peter Brosius.  "Studying Global Environmental Meetings to Understand Global Environmental Governance: Collaborative Event Ethnography at the 10th Conference of Parties to the Convention on Biological Diversity."  Global Environmental Politics, 14(3):1-20, Aug. 2014
2014.  Himmelfarb, David, John Schelhas, Sarah Hitchner, Cassandra Johnson Gaither, Katherine Dunbar, and J. Peter Brosius. "Perceptions of and Attitudes toward Climate Change in the Southeastern United States." In International Perspectives on Climate Change: Latin America and Beyond, pp: 287-299. Walter Leal Filho, Fátima Alves, Sandra Caeiro, Ulisses M. Azeiteiroed, editors. New York: Springer Press.

http://link.springer.com/chapter/10.1007/978-3-319-04489-7_20

2014.  Hitchner, Sarah, John Schelhas, Teppo Hujala, and J. Peter Brosius.  "Public Opinion on Wood-based Bioenergy." In: Wood Energy in Developed Economies: Resource Management, Economics and Policy. Francisco Aguilar, editor. Oxford, UK: Earthscan.
2013.  "Navigating Complex Trade-offs in Conservation and Development: an Integrative Framework."  Issues in Interdisciplinary Studies 31:99-122. Hirsch, PD, Brosius, J.P., O'Connor, S, Zia, A, Welch-Devine, M., Dammert, JL, Songorwa,  A, Trung, TC, Rice, JL, Anderson, ZR, Hitchner, S, Schelhas, J & McShane, TO.

https://www.maxwell.syr.edu/parcc/publications/Navigating_Complex_Trade-Offs_in_Conservation_and_Development/

.

2011.  "Cross-Scale Value Trade-offs in Managing Socio-Ecological Systems: The Politics of Scale in Ruaha National Park, Tanzania."  Ecology and Society 16(4):7.  Co-authored with Asim Zia, Paul Hirsch, Alexander Songorwa, David R. Mutekanga, Sheila O'Connor, Thomas McShane, J. Peter Brosius, and Bryan Norton. [online]  URL:

http://www.ecologyandsociety.org/vol16/iss4/art7/

.

2011. "Hard Choices: Making Trade-offs between Biodiversity Conservation and Human Well-Being." Biological Conservation 144:966-972.  Co-authored with Thomas McShane, Paul Hirsch, Tran Chi Trung, Alexander Songorwa, Ann Kinzig, Bruno Monteferri, David Mutekanga, Hoang Van Thang, Juan Luis Dammert, Manuel Pulgar-Vidal, Meredith Welch-Devine, J. Peter Brosius, Peter Coppolillo, Sheila O'Connor.

2010.  "I

ntroduction: Collaborative Event Ethnography: Conservation and Development Trade-offs at the Fourth World Conservation Congress."

Conservation and Society

8(4):245-255.  J. Peter Brosius and Lisa M. Campbell. 

Special Issue of Conservation and Societ:

Collaborative Event Ethnography: Conservation and Development Trade-offs at the Fourth World Conservation Congress

.  Co-edited with J. Peter Brosius and Lisa Campbell.

2010.  "Acknowledging Conservation Trade-Offs and Embracing Complexity."  Conservation Biology 25(2):259-264.  Co-authored with Paul D. Hirsch, William Adams, J. Peter Brosius, Asim Zia, Nino Bariola, Juan Luis Dammert Bello. 
2010.  "Proposing a Rights-based Landscape History Approach to Conservation." In Policy Matters 17:55-62.  Co-authored with Sarah Hitchner and Rebecca Witter, J. Peter Brosius.
2010.  "Cultural Diversity and Conservation." In International Social Science Journal. 61(199): 141-168.  Co-authored with J. Peter Brosius, Sarah Hitchner.
2010. "Conservation Trade-offs and the Politics of Knowledge."  In Trade-Offs in Conservation: Deciding What to Save, edited by N. Leader-Williams, W.M. Adams and R.J. Smith.  Pp. 311-328.  Oxford: Wiley-Blackwells.
2010.  "People, Trees and Parks: Is Agroforestry In or Out?" (Co-authored with Diane Russell, Rebecca A. Asare, J. Peter Brosius, Rebecca C. Witter, Meredith L. Welch-Devine, Kirsten Spainhower, and Robin Barr).  In People in Parks: Beyond the Debate, Special issue of Journal of Sustainable Forestry 29(2-4):451-476.
2010.  Peterson, Richard B., Diane Russell, Paige West and J. Peter Brosius.  "Seeing (and Doing) Conservation Through Cultural Lenses." In Environmental Management 45(1):5-18. 

http://www.springerlink.com/content/35571m662k487777/fulltext.pdf

.

2006.  "Between Politics and Poetics: Narratives of Dispossession in Sarawak, East Malaysia."  In Reimagining Political Ecology, edited by Aletta Biersack and James Greenberg.  Duke University Press.
2006.  "What Counts as Local Knowledge in Global Environmental Assessments and Conventions?"  In Bridging Scales and Epistemologies: Linking Local Knowledge and Global Science in Multi-Scale Assessments, edited by Walter Reid, Fikret Berkes, Doris Capistrano, and Tom Wilbanks.  Island Press.
2006.  "Seeing Communities: Technologies of Visualization in Conservation."  In The Seductions of Community: Emancipations, Oppressions, Quandries, edited by Gerald Creed.  School of American Research Press.
2006.  (co-authored with Kent Redford).  "Diversity and homogenization in the endgame."  Global Environmental Change 16:317-319
2006.  "Common Ground between Anthropology and Conservation Biology."  Conservation Biology 20(3):683-685.
2006.  (co-authored with N.S. Sodhi, T.M. Brooks, L.P. Koh, G. Acciaioli, M. Erb, A.K.J. Tan, L.M. Curran, T.M. Lee, J.M. Patlis, M. Gumal, and R.J. Lee) "Biodiversity and Human Livelihood Crises in the Malay Archipelago,"  Conservation Biology 20(6):1811-1813.
2005.  Communities and Conservation: Histories and Politics of Community-Based Natural Resource Management.  Co-edited with Anna Tsing and Charles Zerner, Altamira Press.
2004.  "Indigenous Peoples and Protected Areas at the World Parks Congress."  Conservation Biology 18(5):609-612.  Reprinted in Parks (Journal of the IUCN Programme on Protected Areas) 14(2):50-54.
2003.  "Conservation and the Social Sciences."  Co-authored editorial in Conservation Biology 17(3):649-650.  Co-authored with Michael Mascia (lead author), Tracy Dobson, Bruce Forbes, Leah Horowitz, Margaret McKean and Nancy Turner.
2003.  "Voices for the Borneo Rainforest: Writing the History of an Environmental Campaign".  In Imagination and Distress in Southern Environmental Projects, Anna Tsing and Paul Greenough, eds.  Durham: Duke University Press, Pp. 319-346.
2003.  "The Forest and the Nation: Negotiating Citizenship in Sarawak, East Malaysia."  In Cultural Citizenship in Island Southeast Asia: Nation and Belonging in the Hinterlands, Renato Rosaldo (ed.).  Berkeley: University of California Press, Pp. 76-133.
2003.  "Conservation from Above: An Anthropological Perspective on Transboundary Protected Areas and Ecoregional Planning" (Co-authored with Diane Russell).  Journal of Sustainable Forestry 17(1/2):39-65.
2001.  "The Politics of Ethnographic Presence: Sites and Topologies in the Study of Transnational Environmental Movements."  New Directions in Anthropology and Environment: Intersections, Carole Crumley (ed.), Walnut Creek: Altamira Press.
2001.  "Local Knowledges, Global Claims: On the Significance of Indigenous Ecologies in Sarawak, East Malaysia."  In Indigenous Traditions and Ecology, J. Grim and L. Sullivan (eds.).  Cambridge, Mass.: Harvard University Press and Center for the Study of World Religions.
2000.  "The Western Penan of Borneo."  The Cambridge Encyclopedia of Hunters and Gatherers, Richard B. Lee and Richard H. Daly (eds.), Cambridge: Cambridge University Press.
1999.  "Green Dots, Pink Hearts: Displacing Politics from the Malaysian Rainforest."  American Anthropologist 101(1):36-57, Special issue entitled Ecologies for Tomorrow: Reading Rappaport Today, Aletta Biersack, Guest Editor.
1999.  "Analyses and Interventions: Anthropological Engagements with Environmentalism."  Current Anthropology 40(3):277-309.
1999.  "Assessing Community-Based Natural Resource Management: A Conference Report," (with Anna Tsing and Charles Zerner).  Ambio: A Journal of the Human Environment 28(2):197-198.
1998.  "Representing Communities: Histories and Politics of Community-Based Natural Resource Management," (with Anna Tsing and Charles Zerner).  Society and Natural Resources Vol. 11(2):157-168.
1997.  "Prior Transcripts, Divergent Paths: Resistance and Acquiescence to Logging in Sarawak, East Malaysia," Comparative Studies in Society and History Vol. 39(3):468-510.  Reprinted in Beyond the Green Myth: Borneo's Hunter-Gatherers in the 21st Century, Bernard Sellato and Peter Sercombe (eds.), 2006, Copenhagen: Nordic Institute for Asian Studies Press.
1997.  "Endangered Forest, Endangered People: Environmentalist Representations of Indigenous Knowledge", Human Ecology Vol. 25(1):47-69.  Reprinted in Indigenous Environmental Knowledge and its Transformations: Critical Anthropological Approaches, Roy Ellen (ed.), 2000, London: Harwood Academic Publishers; and 2005 in The Environment in Anthropology, Richard Wilk and Nora Haenn (eds.), New York: NYU Press.
1993.  "Between Development and Deforestation: Negotiating Citizenship in a Commodified Landscape", Special issue on Environmental Conservation and Management in Malaysia, Sham Sani (ed.), Akademika 42/43:87-104.
1993.  "Contrasting Subsistence Ecologies among Penan Foragers, Sarawak (East Malaysia)", in C.M. Hladik, et al (eds.), Food and Nutrition in the Tropical Forest: Biocultural Interactions and Applications to Development, Paris: UNESCO - Parthenon Man and the Biosphere Series.
1992.  "Foraging in tropical rainforests: The case of the Penan of Sarawak, East Malaysia (Borneo)".  Human Ecology 19(2):123-150.
1988.  "Significance and Social Being in Ifugao Agricultural Production".  Ethnology Vol. 27(1):97-110.
1986.  "River, Forest and Mountain: The Penan Gang Landscape", Sarawak Museum Journal Vol. 36, No. 57 (New Series):173-184.
1985.  "Ethnoecology: An Approach to Understanding Traditional Agricultural Knowledge", (with G. Lovelace and G.G. Marten), in Traditional Agriculture in Southeast Asia: A Human Ecology Perspective, G.G. Marten (ed.), Westview Press: Boulder.