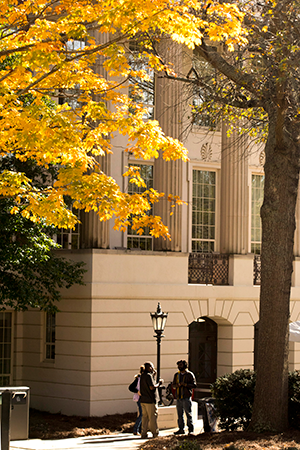 This is a living document that is being continually revised and updated in ongoing collaboration with the Department of Anthropology's faculty, staff and students. We, the faculty, students, and staff of the Department of Anthropology at the University of Georgia, welcome all people to participate in our scholarly mission, regardless of race, class, sex, gender identity, ethnicity, or ability. The core lesson of anthropological research over the past century is that humanity's apparent differences are superficial compared to the qualities we share. All people share the same innate capacity to learn, aspire, imagine, create, and care, and so all people deserve equal respect, dignity, and opportunity. We seek to create a welcoming and inclusive scholarly environment. 
We take seriously the duty of all anthropologists to confront and condemn racism, classism, sexism, heterosexism, and ableism, wherever these ideas emerge, even when they emerge within ourselves. These ideas are harmful to individuals and society, and they have no basis in fact.  
We endorse the American Anthropological Association's Statement on Race, which states that there is no biological support for the division of humanity into separate races. Race is a thing that exists only because we collectively act as though it is real. In North America, 500 years of belief in race caused the displacement, genocide, and enslavement of Indigenous peoples, the enslavement of peoples transported from Africa, exploitative labor conditions for immigrants, policies restricting immigration on the basis of religion and national origin, the imprisonment of people of Japanese descent during the second World War, forced sterilizations, segregation, and a civil society structured around the false assumption that the "normal" American is white, straight, and middle class.  Today, erroneous beliefs in the biological validity of race continue to motivate routine acts of prejudice and exclusion and traumatic acts of violence and domestic terrorism. 
We acknowledge the unfortunate role played by past generations of anthropologists in providing pseudoscientific support for racist, classist, sexist, heterosexist, and ableist actions and polices. We seek to rectify the wrongs of past anthropologists, who sometimes (and sometimes systematically) disrespected the lives, beliefs, possessions, bodies, graves of the people whom we study. We seek to grant all people, living and deceased, the same rights to respect and dignity.