Bali and Beyond • Maymester

The Indonesian island of Bali is famous for the richness of its cultural heritage, its distinctive brand of Hinduism, its visual exuberance, and its elaboration of ritual and the arts. Beginning in the 1930s, an international collection of artists and writers began to make Bali's unique culture known to Western audiences, and there is a long legacy of portrayals of Bali as an exotic Paradise. This continues to be a foundation of touristic portrayals of the island at a time when mass tourism is exploding. All over the island, rampant development presents profound sustainability challenges as local communities struggle to maintain the rich cultural and natural heritage that attracts visitors in the first place. Besides a rising trend in dispossession, tourism and real estate development has produced a crisis in plastic waste, pollution, and water shortages caused by the fragmentation of centuries-old irrigation systems and the diversion of water to resorts and real estate developments.
This program brings Balinese culture alive, allowing students to see first-hand what the world looks like through another cultural lens. At the same time, this course examines a set of complex sustainability challenges that have emerged with the development of mass tourism in Bali and considers what these challenges look like from multiple Balinese perspectives. The Bali & Beyond program takes students outside of the "tourist bubble" and, through first-hand field-based experiences, exposes them to the contradictions that arise in the encounter between culture and tourism. Students learn about Balinese culture and the challenges of sustainability through first-hand experience, travelling to a variety of communities, temples and other cultural sites throughout Bali and surrounding islands.  In Bali, students will visit temple sites nominated for UNESCO World Heritage status, the center of Balinese arts and culture in Ubud, the thousand-year-old rice terraces of Tampak Siring, the highland village of Puakan, and the sacred temple of Tanah Lot adjacent to the site of a golf resort being developed by Donald Trump. At each place we visit, we'll meet with Balinese cultural authorities, activists and artists to hear a diversity of perspectives on the sustainability challenges currently facing Bali.
Surfing and Sustainability: Political Ecology in Costa Rica • Summer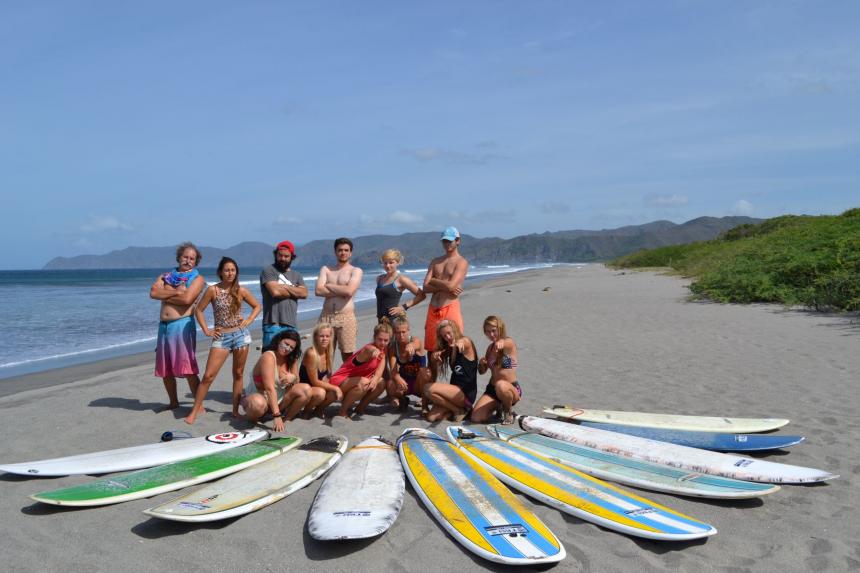 Surfing is simultaneously a sport, a lifestyle, and an iconic part of American and global popular culture.  It is also an ideal lens for analyzing a range of contemporary cultural processes associated with commodification and globalization, histories of colonialism, gender, tourism, and sustainability. The Surfing & Sustainability program introduces students to surfing as a globalizing cultural phenomenon as it is manifested in communities on the Pacific coast of Costa Rica, a country widely recognized as an icon of successful conservation. As a magnet for global surf tourism, Costa Rica's Pacific Coast is being rapidly transformed as communities face the complex challenges of promoting sustainability and conserving nature while catering to increasing demands for development and economic growth.
During the program students visit a number of national parks and reserves as well as sites of rapid development – resorts, large housing tracts and gated communities.  In the process we will meet with people representing different viewpoints on conservation, development, and sustainability. The program emphasizes an ethnographic approach and includes learning to surf as an experiential component of observation and analysis.