Archaeological Field School 2020 - Maymester
Loscos, Autonomous Community of Aragon, Spain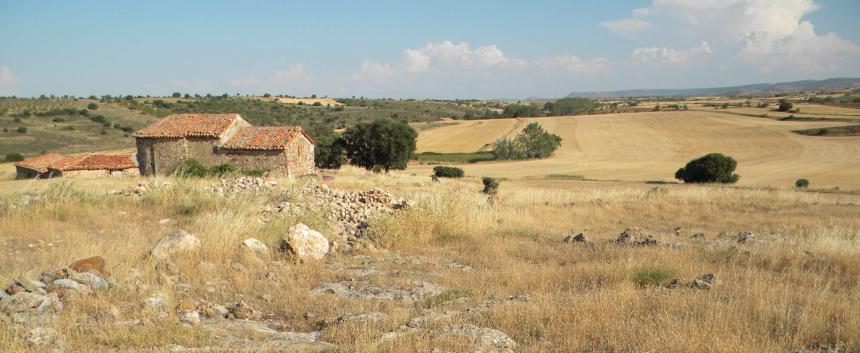 Ebro Landscapes from Antiquity to Modernity 
Come work at the Medieval market town of Mercadal abandoned ca. AD 1490 to delineate the town boundary and establish its relation to agricultural fields, water features, and other sites.
In addition to learning archaeological field and laboratory methods, you will visit several monumental archaeological sites including: the 2nd century BC Celtiberian city of La Caridad built on a Greek urban plan; the Roman city of Caesaraugusto founded in 25 BC and now the modern city of Zaragoza; the UNESCO World Heritage Site of Alabarracín and capital of an 11th century Muslim principality; the Castle of Monforte, a 12th century strategic stronghold used during the Reconquist of Spain from the Moors; and Belchite, a public archaeological monument to the trauma of the Spanish Civil War (1936-1939).
Lodging:  You will reside in Loscos, a rural town 50 miles south of Zaragoza staying in a multi-bedroom Medieval house with modern bathroom and kitchen facilities.

Field School Goals: This is an archaeological field and laboratory program in which you will learn shovel test survey, shallow block excavation, Real Time Kinematic GPS, shallow geophysical survey, research design, artifact processing and identification, geophysical processing, and public archaeology.

Credits:  You will earn 9 credits - ANTH4200 Field Methods (6cr) and ANTH 4240 Laboratory Methods (3cr) while fulfilling one ore more UGA general education core curriculum requirements, university-wide requirements, Franklin College requirements, and/or Department of Anthropology major requirements.
For further details on this program and to register can be found at the Office of Global Engagement.